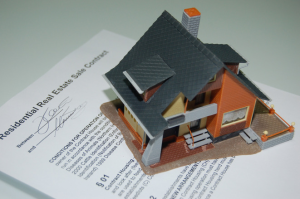 If two or more people own a piece of real property (real estate) and cannot agree on how to divide the property, then the legal remedy is what is known as a partition action.  A partition action is a lawsuit between co-owners of real property, that seeks an judgment determining each co-owners interest and then ordering that the property either sold physically divided in proportion to the interest.
Generally speaking, every step in the sales/division process is subject to Court supervision.  Because most judges prefer not to deal with such minutiae they will usually appoint one or more "Referees" and will give them detailed instructions on how to divide or sell the house, condo, or other real property at issue.
Although the Referee(s) will usually be in charge of most aspects of the sale or division process, they will often rely on other outside experts.  For example, many referees will typically consult with a broker before setting a sale price.  The reason for this is that the parties can try and challenge the referee's actions, and, by consulting with such experts, they help insure that their decisions will not be overturned by the judge.
If this process sounds overly complicated and stilted it's because it is.  Whats more the parties typically have to pay for costs like the referee, so, it is usually in the co-owner's best interest to work out a deal outside of court.   If you own a piece of property with a hostile or absent co-owner the San Francisco attorneys of Jones & Devoy have experience in navigating division of such property in and out of court and can help guide your case to practical solution.