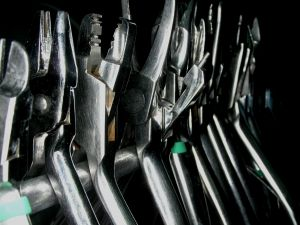 In California a dentist commits malpractice when their treatment falls below the standard of care of dentists in the community.  Legally this means that one needs another dentist or similar practitioner who is an "expert" in the field to testify that a dentist's care did in fact fall below the standard of care.  This can encompass anything from improper tooth removal to the designing and installing a dangerous bridge.  Without an expert to testify that such treatment is deficient one does not legally have a case.  Therefore, when contemplating bringing a lawsuit against a dentist for medical malpractice, it is critical to carefully review and vet your own case to make sure that you will be able to produce such an expert before filing suit.
On the other hand, one of the greatest dangers in dental malpractice law is that it has an extremely short statute of limitations.  Under California Code of Civil Procedure 340.5 the statute of limitations is either 1 year from the date plaintiff knows or should have known about the injury, or 3years from the date of the injury whichever is the earlier date.  This confusing statute of limitations has few exceptions and can in many cases reduce one's time to file down to 1 year.
If you or someone you love has been the victim of medical malpractice during a dental procedure in Bay Area, whether it be in San Francisco, the east bay, silicon valley or the peninsula, it is critical that you begin taking action as soon as possible.  The San Francisco based attorneys at Jones & Devoy have experience in dental medical malpractice actions against dentists, periodontist and other dental professionals.  Jones & Devoy and can help you navigate the complicated medical malpractice laws that exist in the state of California.