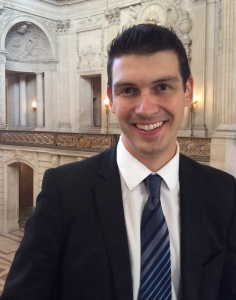 Phone: (415) 615-0879
Fax: (415) 974-6745
Email: ajones@jonesdevoy.com

Alexander T. Jones has an extensive background in both general litigation and family law as well as experience in various business and transactional matters.
In the area of litigation Mr. Jones has a wide range of experience ranging from prosecuting and defending a variety civil cases.  With this global perspective of the justice system Mr. Jones is able to effectively develop strategies that will hinder the opposition along with constructing arguments that will be welcomed by a judge or jury.
As a family law practitioner Mr. Jones has handled every manner of case including adoptions, child custody and visitation disputes, guardianships, and hundreds of divorces. Mr. Jones' employment background in finance along with his undergraduate work in mathematics has proved especially helpful in family law matters involving support or complex property division along with various business and transactional matters.
In addition to operating his own law practice, Mr. Jones teaches Mock Trial as an adjunct professor at Golden Gate University School of Law and has coached teams competing in the National American Association of Justice competition, the Bay Area San Francisco Trial Lawyers Association regional competition, and the Stetson Law School pretrial competition.
Mr. Jones did his undergraduate work at University of California Santa Cruz where he earned degrees in mathematics and philosophy with honors. After working for Morgan Stanley Dean Witter, Mr. Jones attended law school at Golden Gate University School of Law where he graduated in the top 2% of his class. Additionally, Mr. Jones was a member of the Law Review Board, and received the International Academy of Trial Lawyers Award for The Most Outstanding Student in the Field of Litigation, along with the Witkin Legal Institute's Award for Academic Excellence in the fields of Criminal and Constitutional Law.
Published Works:
Family Ties or Criminal Contacts: A case for the appointment of counsel in civil gang injunction proceedings that affect family relationships, 39 Golden Gate U. L. Rev. 41 (2008). Click here to read the article