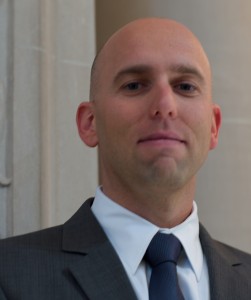 Phone: (415) 615-0879
Fax: (415) 974-6745
Email: ddevoy@jonesdevoy.com
Daniel R. Devoy practices civil litigation with an emphasis in Business Litigation, Real Estate/Property Law and Personal Injury. In addition to operating his own law practice, Mr. Devoy teaches Mock Trial as an adjunct professor at Golden Gate University School of Law and has coached teams competing in the National American Association of Justice competition and the Bay Area San Francisco Trial Lawyers Association regional competition. Professor Devoy also began teaching a new pro bono externship and clinic whereby students learn the area of Veterans Benefits Law and assist military veterans in pro bono matters.  As a member of the Golden Gate School of Law faculty, Mr. Devoy has received the Litigation Contribution Award, and joined in support of Petitioner's Amicus Brief in the matter of Brannan v. Humphrey, No. 13-1220, United States Supreme Court.
Mr. Devoy obtained his undergraduate degree from the University of California, San Diego with Provost Honors and obtained his law degree from Golden Gate University School of Law, with a certificate of specialization in litigation.  While in law school, Mr. Devoy served as a judicial extern for the Honorable Joseph C. Spero of the United States District Court Northern District of California, was a member of a championship mock trial team, and received Witkin and Cali Awards for academic excellence in the fields of Evidence Law, Client Advocacy, Legal Writing, and Remedies at Law.
Prior to law school, Mr. Devoy served two enlistments in the United States Army as a Non Commissioned Officer. He is a member of several different veteran organizations, including the Iraq Afghanistan Veterans Association, and the Veterans of Foreign Wars. During his time in the military, Mr. Devoy was awarded numerous medals including: the Meritorious Service Medal, the Combat Infantry Badge, Expert Infantry Badge, and the Presidential Unit Citation.
In appreciation for all those who have served in the armed forces, Mr. Devoy performs pro bono legal work for military veterans in the area of Veterans Service Connected Disability Claims. Additionally, Mr. Devoy is a volunteer attorney with the veterans rights organization Swords to Plowshares.
He is a member of the California State Bar, is admitted to practice before the United States District Court for the Northern District of California, is an accredited attorney for the Department of Veterans Affairs as well as a member of the San Francisco Trial Lawyers Association and the San Francisco Bar Association.
Real Estate & Property Law: Mr. Devoy counsels clients and litigates matters involving landlord / tenant disputes and neighbor disputes involving boundary lines and…
Personal Injury: Mr. Devoy handles all aspects of personal injury lawsuits, to include defamation, accidents and consumer products. To determine if…
Business Law: Mr. Devoy counsels clients in the creation of LLC's, partnerships and other ventures. Additionally, our office is available to…