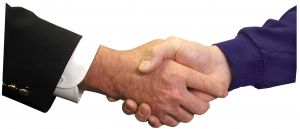 95% of all civil cases settle.  From real estate fraud to defamation a case will most likely not end in a dramatic trial like we all see in Law and Order.  Settlement is usually a preferable result in any case because it not only assures that you are getting a result you can live with, but it also cuts down on attorney fees and costs associated with litigation. The trouble with settlement though, is that you want to do everything in your power to make sure you are getting the best deal possible.  How do you do this? Generally, one of the best ways to get the settlement you deserve is to prepare a case as though it is not going to settle.  This will give you the best no-nonsense appraisal of your case including its strengths and weaknesses.  
By carefully reviewing the evidence all sides in a lawsuit has most attorneys can fairly well determine the value of a case. Moreover, once you become very certain of the value of a case, certain procedural devices such a California Civil Procedure Code Section 998 become available.  Under section 998 one can make a special kind of offer called a "998 offer." A 998 offer is one where, if the other side fails to perform better at trial, then you are entitled to recover costs.  For example, if you make a 998 offer of $500.00 and win $800.00 at trial then you may recover costs from the other side. Needless to say this is a very good motivating force to take a 998 offer very seriously.
Using legal tools like these, and treating every case as a trial case, the San Francisco Bay Area Law Firm of Jones & Devoy will always advocate at least attempting to settle a case if possible. Taking the right  steps now can save you a headache tomorrow so you can get on with your life and leave us lawyers behind.