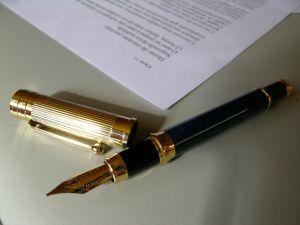 Prenuptial Agreements may have a bad rap, but despite the press they are not always a vehicle for wealthy tycoons to get one up on their trophy husband or wife.  Often, a prenuptial agreement is a way for everyone to discuss potential problems ahead of time, with level head, so that if they do arise there is a plan in place to prevent everyone from wasting more money in litigation later on. For example, parties under a prenuptial agreement can determine whether student loan debts will belong to both parties, or whether step-children will be considered child support obligations should a separation occur.
Unfortunately, many people have abused the legal process of prenuptial agreements and, as a result, the state of California has imposed a host of specific legal requirements to assure that the process is not misused. For instance, California Family Code Section 1612 requires that one wait "seven calendar days between the time that [a] party was first presented with the agreement and advised to seek independent legal counsel and the time the agreement was signed."  This seven day wait period help prevent against "ambush" prenuptial agreements at the alter.
Safe guards like this very often prevent unscrupulous behavior and void unconscionable conduct legally. However,laws like the seven day waiting period, can, in many instances, act as a road block to couples want a premarital agreement.  This is because if a premarital agreement is not properly drafted, or contains provisions that are disallowed under the law, the entire agreement could be thrown out by a judge years later opening up for litigation all the problems a couple sought to circumvent years before.
For this reason it's important to at least consult with an attorney to understand the process and validity of certain provisions.  A little effort now can save a lot of time and trouble tomorrow. Our San Francisco Bay Area attorneys have experience with both the common and uncommon problems that can arise in these agreements and are happy to provide free consultation to see if such an agreement is right for you.